After getting my first chance to listen to a clip of BENEVOLENT's audiobook-in-progress this weekend, I'm really looking forward to listening to the finished product!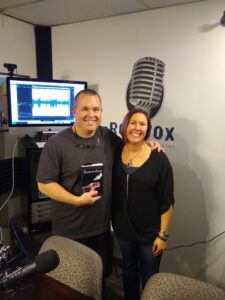 This project has been a unique experience for me because I'm narrating the majority of the audiobook myself. My friends and work family have been listening to me talk/whine about the recording process for months now, and my biggest concern with the audiobook has always been that my "deep male voice" wasn't deep enough — or male enough. I'm thrilled to announce that my friend Scott Fitzgerald, Fitz from the morning show on 93.3 FM, is lending his much deeper (and much manlier) voice to the project! He will be doing the voice of my favorite trench-coat-wearing angel, Castiel, in BENEVOLENT's audiobook!
Not only is Fitz contributing his voice to this project, but he is also producing the audiobook, as he is an engineer / co-owner of Roc Vox Recording & Production Studio in Pittsford, NY. I'll be sure to post updates when the audiobook is available to purchase!